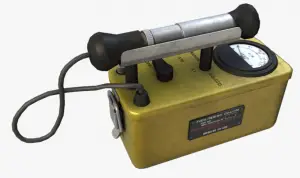 The Geiger counter, also known as the Geiger-Mueller counter, is an electrical device that detects various types of ionizing radiation. This device is named after the two physicists who invented the counter in 1928, and Mueller was a student of Hans Geiger. Geiger counter is widely used in applications such as radiation dosimetry, radiological protection, experimental physics, and the nuclear industry. A Geiger counter consists of a Geiger-Müller tube (the sensing element which detects the radiation) and the processing electronics, which displays the result.
Geiger counter can detect ionizing radiation such as alpha and beta particles, neutrons, and gamma rays using the ionization effect produced in a Geiger–Müller tube, which gives its name to the instrument. The voltage of the detector is adjusted so that the conditions correspond to the Geiger-Mueller region.
Detection of Neutrons using Geiger Counter
Since the neutrons are electrically neutral particles, they are mainly subject to strong nuclear forces but not electric ones. Therefore, neutrons are not directly ionizing and usually have to be converted into charged particles before they can be detected. Generally, every type of neutron detector must be equipped with a converter (to convert neutron radiation to common detectable radiation) and one of the conventional radiation detectors (scintillation detector, gaseous detector, semiconductor detector, etc.).
It is not common, but Geiger counters may also be used for neutron detection. In this case, the Geiger-Mueller tube must have the inside of the tube coated with boron, or the tube must contain boron trifluoride (BF3) or helium-3 as the fill gas.
The incoming neutrons produce alpha particles when reacting with the boron atoms in the detector gas. Most of (n,alpha) reactions of thermal neutrons are 10B(n,alpha)7Li reactions accompanied by 0.48 MeV gamma emission.

Moreover, isotope boron-10 has a high (n, alpha) reaction cross-section along the entire neutron energy spectrum. The alpha particle causes ionization within the chamber, and ejected electrons cause further secondary ionizations.