Example: Water Jet Striking a Stationary Plate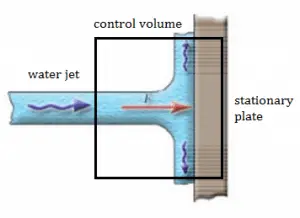 A stationary plate (e.g.,, blade of a watermill) deflects water flow at a velocity of 1 m/s and an angle of 90°. It occurs at atmospheric pressure, and the mass flow rate is equal to Q =1 m3/s.
Calculate the pressure force.
Calculate the body force.
Calculate the total force.
Calculate the resultant force.
Solution
The pressure force is zero as the pressure at the inlet, and the outlets to the control volume are atmospheric.
As the control volume is small, we can ignore the body force due to the weight of gravity.
Fx = ρ.Q.(w1x – w2x) = 1000 . 1 . (1 – 0) = 1000 N
Fy = 0
F = (1000, 0)
The resultant force on the plane is the same magnitude but in the opposite direction as the total force F (friction and weight are neglected).
The water jet exerts on the plate the force of 1000 N in the x-direction.