Executive Summary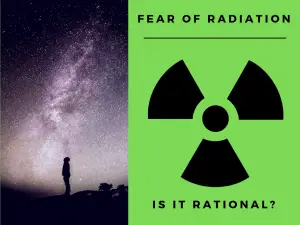 Radiation is all around us. We are continually exposed to natural background radiation, which seems to be without any problem. Yes, high doses of ionizing radiation are harmful and potentially lethal to living beings, but these doses must be high. Moreover, what is not harmful in high doses? Even a high amount of water can be lethal to living beings.
The truth about low-dose radiation health effects still needs to be found. It is unknown whether these low doses of radiation are detrimental or beneficial (and where is the threshold). Some studies claim that small doses of radiation given at a low dose rate stimulate the defense mechanisms. Moreover, ionizing radiation can have health benefits in medicine, for example, in diagnostics, where X-rays are used to produce pictures of the inside of the body. We do not claim that everything is OK, and it also depends on the type of radiation and tissue which was exposed.
But finally, if you compare risks, which arise from the existence of the radiation, natural or artificial, with risks, which arise from everyday life, then you must conclude that fear of radiation is irrational. Humans are often inconsistent in our treatment of perceived risks. Even though two situations may have similar risks, people will find one situation permissible and another unjustifiably dangerous.
The problem of ionizing radiation lies in the fact that the radiation is invisible and not directly detectable by human senses. People can neither see nor feel radiation, and therefore, they feel fear of this invisible threat.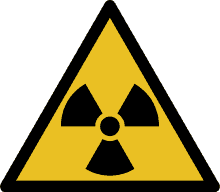 How Dangerous is Radiation
Radiation is all around us. In, around, and above the world we live in. It is a natural energy force that surrounds us, and it is a part of our natural world that has been here since the birth of our planet. From the beginning of time, all living creatures have been, and are still being, exposed to ionizing radiation.
For example, potassium-40 is one of the isotopes contributing to humans' internal exposure. Traces of potassium-40 are found in all potassium, the most common radioisotope in the human body. Higher amounts can also be found in bananas. Does it mean eating bananas must be dangerous? Of course not.
Whether the source of radiation is natural or artificial, whether it is a large dose of radiation or a small dose, there will be some biological effects. In general, ionizing radiation is harmful and potentially lethal to living beings. Still, it can have health benefits in medicine, for example, in radiation therapy for treating cancer and thyrotoxicosis.
But where is the threshold between positive and negative effects of radiation?
""
In the following thoughts, we try to summarize facts and hypotheses which can help you understand the problem. It is all about the risks from exposure to ionizing radiation and the consistency in all risks of everyday life. But first, we have to summarize key facts about ionizing radiation.
The intensity of Radiation – Dose and Dose Rate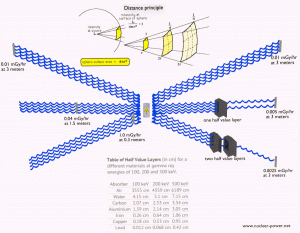 The intensity of ionizing radiation is a key factor determining the health effects of exposure to radiation. It is similar to being exposed to heat radiation from a fire (in fact, it is also transferred by photons). If you are too close to a fire, the intensity of thermal radiation is high, and you can get burned. If you are at the right distance, you can withstand it without any problems, and it is comfortable. If you are too far from a heat source, the insufficiency of heat can also hurt you. In a certain sense, this analogy can be applied to radiation from ionizing radiation sources.
In short, to get burned (deterministic effects and demonstrable stochastic effects) by ionizing radiation, you must be exposed to a high amount of radiation. But almost every time, we are talking about so-called low doses. As written today, the protection system is based on the LNT hypothesis, a conservative model used in radiation protection to estimate the health effects of small radiation doses. This model is excellent for setting up a protection system for all use of ionizing radiation. This model assumes that there is no threshold point and risk increases linearly with a dose, i.e., the LNT model implies that there is no safe dose of ionizing radiation. If this linear model is correct, natural background radiation is the most hazardous radiation source to general public health, followed by medical imaging as a close second. It must be added that the research during the last two decades is very interesting and show that small doses of radiation given at a low dose rate stimulate the defense mechanisms. Therefore the LNT model is not universally accepted, with some proposing an adaptive dose-response relationship where low doses are protective, and high doses are detrimental. Many studies have contradicted the LNT model and shown an adaptive response to low dose radiation resulting in reduced mutations and cancers. On the other hand, it is very important to know what type of radiation a person is exposed to.
Type of Radiation – High-LET x Low-LET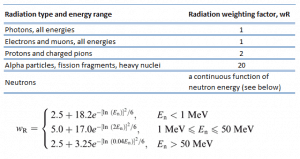 This section is about the fact that there are several types of ionizing radiation, and each type of radiation interacts with matter differently. When discussing the radiation intensity, we must consider which type of radiation we are exposed to. For example, alpha radiation tends to travel only a short distance and does not penetrate very far into a tissue, if at all. Therefore, alpha radiation is sometimes treated as non-hazardous since it cannot penetrate the surface layers of human skin. This is naturally true, but this is not valid for internal exposure to alpha radionuclides. When inhaled or ingested, alpha radiation is much more dangerous than other types of radiation. Note that the radiation weighting factor for alpha radiation is equal to 20. Biological effects of any radiation increase with the linear energy transfer (LET) were discovered. In short, the biological damage from high-LET radiation (alpha particles, protons, or neutrons) is much greater than that from low-LET radiation (gamma rays).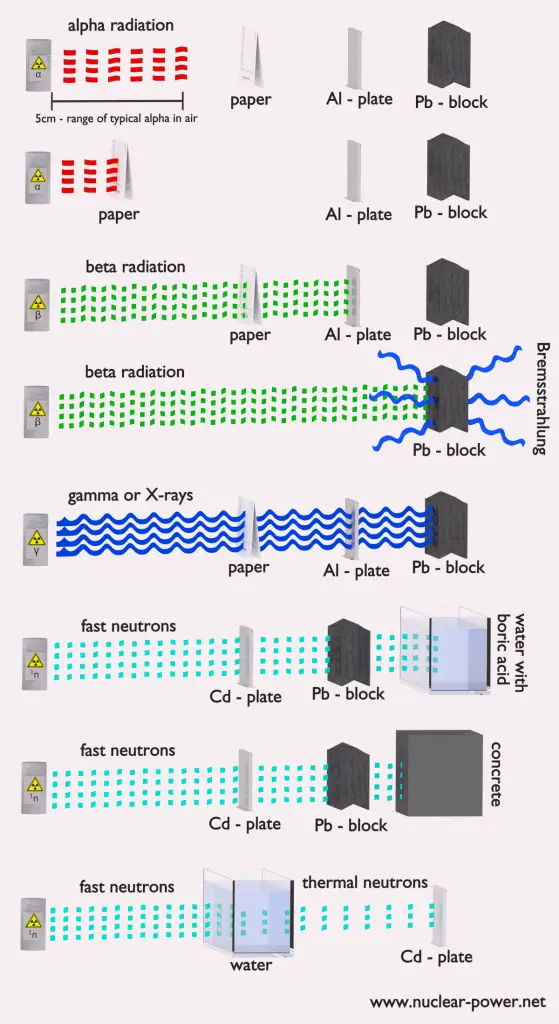 Ionizing radiation is categorized by the nature of the particles or electromagnetic waves that create the ionizing effect. These particles/waves have different ionization mechanisms and may be grouped as:
Directly ionizing. Charged particles (atomic nuclei, electrons, positrons, protons, muons, etc.) can ionize atoms directly by fundamental interaction through the Coulomb force if it carries sufficient kinetic energy. These particles must move at relativistic speeds to reach the required kinetic energy. Even photons (gamma rays and X-rays) can ionize atoms directly (despite they are electrically neutral) through the Photoelectric effect and the Compton effect, but secondary (indirect) ionization is much more significant.
Indirectly ionizing. Indirect ionizing radiation is electrically neutral particles and therefore does not interact strongly with matter. The bulk of the ionization effects is due to secondary ionizations.
External x Internal Exposure
As was written, it is crucial whether we are exposed to radiation from external or internal sources. This is similar to other dangerous substances. Internal exposure is more dangerous than external exposure since we carry the radiation source inside our bodies, and we cannot use any of the radiation protection principles (time, distance, shielding). The intake of radioactive material can occur through various pathways such as ingesting radioactive contamination in food or liquids, inhalation of radioactive gases, or through intact or wounded skin. In this place, we have to distinguish between radiation and contamination. Radioactive contamination consists of radioactive material that generates ionizing radiation. It is the source of radiation, not radiation itself. Anytime radioactive material is not in a sealed radioactive source container and might be spread onto other objects, radioactive contamination is possible. For example, radioiodine, iodine-131, is an important radioisotope of iodine. Radioiodine plays a major role as a radioactive isotope present in nuclear fission products. It is a major contributor to health hazards when released into the atmosphere during an accident. Iodine-131 has a half-life of 8.02 days. The target tissue for radioiodine exposure is the thyroid gland. The external beta and gamma dose from radioiodine present in the air is quite negligible compared to the committed dose to the thyroid resulting from breathing this air.
Consistency in all Risks
Finally, it is all about the risks of exposure to ionizing radiation and the consistency in all risks of everyday life. In general, danger (also risk or peril) is the possibility of something bad happening. A situation with a risk of something bad happening is called dangerous, risky, or perilous. Yes, ionizing radiation sounds very dangerous, but how exactly dangerous is radiation?
Humans are often inconsistent in our treatment of perceived risks. Even though two situations may have similar risks, people will find one situation permissible and another unjustifiably dangerous. For radiation risks, doses to the public must be kept under 1 mSv/year. Even for the very conservative case of linear no-threshold assumption, one millisievert represents a 0.0055% chance of some detrimental health effects. Two points:
In our opinion, this is an acceptable risk. On average, annual doses from natural background radiation are about 3.7 mSv/year (10 µSv = average daily dose received from natural background).
Moreover, the problem with this model is that it neglects many defense biological processes that may be crucial at low doses. The research during the last two decades is very interesting and shows that small doses of radiation at a low dose rate stimulate the defense mechanisms.
Annually received dose of 1 mSv causes very conservatively about 0.0055% chance of some detrimental health effects. In April 2012, a year after the Fukushima accident, cleanup efforts were supposed to be happening wherever the radiation dose exceeded government regulations. Entire towns are still off limits because the annual dose from the ground is projected to be greater than 50 mSv or even 20 mSv, leaving many people in the area homeless and jobless. But did anyone take into account the health effects of this evacuation. The consequences of low-level radiation are often more psychological than radiological. Forced evacuation from a radiological or nuclear accident may lead to social isolation, anxiety, depression, psychosomatic medical problems, reckless behavior, and even suicide. Such was the outcome of the 1986 Chernobyl nuclear disaster in Ukraine. A comprehensive 2005 study concluded that "the mental health impact of Chernobyl is the largest public health problem unleashed by accident to date." But what if the threshold model is true, and doses of up to 100 mSv/yr result in no detectable health risks? This would mean that people are being unnecessarily kept away and prevented from working on their farms for negligible health effects. Recall that the annual dose in some parts of Araxa, Brazil is higher than 20 mSv. In contrast, the average dose examined in the three-country nuclear worker studies was 30-40 mSv/yr. These studies found no significant increase in solid cancers or leukemias from those doses.
Another point of view can be obtained when we consider all everyday life risks. What about risks that arise from transportation. Nearly 1.25 million people die in road crashes each year, on average 3,287 deaths a day. Road crashes are the leading cause of death among young people ages 15-29 and the second leading cause of death worldwide among young people ages 5-14. On the road, people don't realize the kinetic energy of a car. So why do we not stop driving cars? Yes, transportation is today essential, but so are the peaceful uses of radiation. And what about smoking cigarettes? Cigarettes also contain polonium-210, originating from the decay products of radon, which stick to tobacco leaves. Polonium-210 emits a 5.3 MeV alpha particle, which provides most of the equivalent dose. Heavy smoking results in a dose of 160 mSv/year to localized spots at the bifurcations of segmental bronchi in the lungs from the decay of polonium-210. This dose is not readily comparable to the radiation protection limits since the latter deal with whole body doses. In contrast, the dose from smoking is delivered to a very small portion of the body.
Finally, we would like to discuss a very interesting fact. It is generally known that the increasing use of nuclear power and electricity generation using nuclear reactors will lead to a small but increasing radiation dose to the general public. But it is not generally known that power generation from coal also creates additional exposures, and, what is more interesting. In contrast, exposure levels are very low, and the coal cycle contributes more than half of the total radiation dose to the global population from electricity generation. The nuclear fuel cycle contributes less than one-fifth of this. The collective dose, which is defined as the sum of all individual effective doses in a group of people over the period or during the operation being considered due to ionizing radiation, is:
670-1400 man Sv for coal cycle, depending on the age of the power plant,
130 man Sv for nuclear fuel cycle,
5-160 man Sv for geothermal power,
55 man Sv for natural gas
03 man Sv for oil
Yes, these results should be seen from the perspective of the share of each technology in worldwide electricity production. Since 40 percent of the world's energy was produced by the coal cycle in 2010 and 13 percent by nuclear, the normalized collective dose will be about the same:
7 – 1.4 man Sv/GW.a (man sievert per gigawatt year) for coal cycle
43 man Sv/GW.a (man sievert per gigawatt year) for nuclear fuel cycle
Special Reference: Sources and effects of ionizing radiation, UNSCEAR 2016 – Annex B. New York, 2017. ISBN: 978-92-1-142316-7.