In heat transfer analysis, the
thermal conductivity
ratio to the
specific heat capacity
at constant pressure is an important property termed
thermal diffusivity
. The
thermal diffusivity
appears in the transient heat conduction analysis and the heat equation.
It represents how fast heat diffuses through the material and has units m2/s. In other words, it is the measure of the thermal inertia of given material. Thermal diffusivity is usually denoted α and is given by: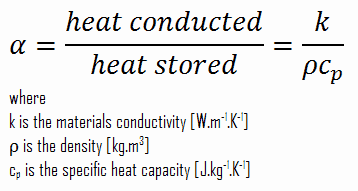 As can be seen, it measures the ability of a material to conduct thermal energy (represented by factor k) relative to its ability to store thermal energy (represented by factor ρ.cp). Materials of large α will respond quickly to changes in their thermal environment. In contrast, materials of small α will respond more slowly (heat is mostly absorbed), taking longer to reach a new equilibrium condition.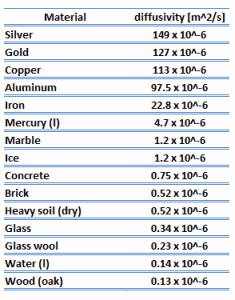 Thermal Diffusivity in Heat Conduction Equation
Constant Thermal Conductivity
This equation can be further reduced assuming the thermal conductivity to be constant and introducing the thermal diffusivity, α = k/ρcp: