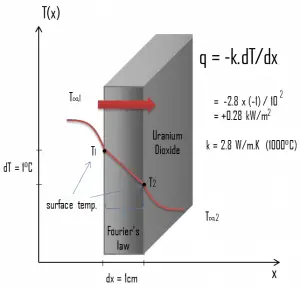 The heat transfer characteristics of solid material are measured by a property called the thermal conductivity, k (or λ), measured in W/m.K. It measures a substance's ability to transfer heat through a material by conduction. Note that Fourier's law applies to all matter, regardless of its state (solid, liquid, or gas). Therefore, it is also defined for liquids and gases.
The thermal conductivity of most liquids and solids varies with temperature, and for vapors, it also depends upon pressure.
What is Thermal Conductivity – Definition

Most materials are very nearly homogeneous. Therefore, we can usually write k = k (T). Similar definitions are associated with thermal conductivities in the y- and z-directions (ky, kz), but for an isotropic material, the thermal conductivity is independent of the direction of transfer, kx = ky = kz = k.
The previous equation follows that the conduction heat flux increases with increasing thermal conductivity and increasing temperature differences. In general, the thermal conductivity of a solid is larger than that of a liquid, which is larger than that of a gas. This trend is due largely to differences in intermolecular spacing for the two states of matter. In particular, diamond has the highest hardness and thermal conductivity of any bulk material.