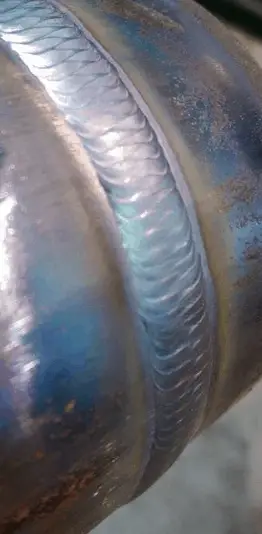 Arc welding processes use a welding power supply to create and maintain an electric arc between an electrode and the base material to melt metals at the welding point. The intense heat produced by the arc quickly melts a portion of the base metal, resulting in the formation of a weld. This electrical arc is around 3590°C in its center. Filler metal is added in most welding processes to increase the volume and strength of the weld joint. A pool of molten metal, consisting of base and filler metal is formed near the tip of the electrode. As the electrode is moved along the joint, the molten metal solidifies in its wake.
The welding power supply can use either direct current (DC), alternating current (AC), and consumable or non-consumable electrodes. The welding region is sometimes protected by some type of inert or semi-inert gas, known as a shielding gas. In arc welding, the length of the arc is directly related to the voltage, and the amount of heat input is related to the current. The voltage supplied by power companies for industrial purposes-120 volts (V), 230 V, 380 V, or 480 V is too high for use in arc welding. Therefore, the first function of an arc welding power source is to reduce the high input or line voltage to a suitable output voltage range, 20 V to 80 V. Constant current power supplies are most often used for manual welding processes such as gas tungsten arc welding and shielded metal arc welding because they maintain a relatively constant current even as the voltage varies. This is important because, in manual welding, it can be difficult to hold the electrode perfectly steady, and as a result, the arc length and, thus, voltage tend to fluctuate.
Gas Tungsten Arc Welding – TIG Welding
Gas tungsten arc welding, also known as tungsten inert gas (TIG) welding, is an arc welding process that uses a non-consumable tungsten electrode and an inert gas for arc shielding. The GTAW can be implemented with or without filler metal. When filler metal is used, it is added to the weld pool from a separate rod or wire. The typical shielding gases used are argon, helium, or a mixture of these gases. TIG welding is especially useful for welding thin materials. This method is characterized by a stable arc and high-quality welds. Still, it requires significant operator skill and can only be accomplished at relatively low speeds. Since the GTAW process is a very clean welding process, it can be used to weld reactive metals, such as titanium and zirconium, aluminum, and magnesium.