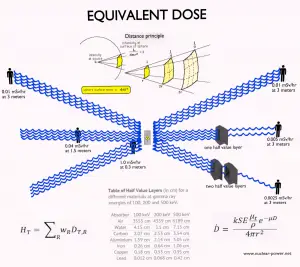 Equivalent dose (symbol HT) is a dose quantity calculated for individual organs (index T – tissue). The equivalent dose is based on the absorbed dose to an organ, adjusted to account for the effectiveness of the type of radiation. An equivalent dose is given the symbol HT. The SI unit of HT is the sievert (Sv) or but rem (roentgen equivalent man) is still commonly used (1 Sv = 100 rem). Unit of sievert was named after the Swedish scientist Rolf Sievert, who did a lot of the early work on dosimetry in radiation therapy.
Equivalent Dose Rate
The equivalent dose rate is the rate at which an equivalent dose is received and a measure of radiation dose intensity (or strength). The equivalent dose rate is therefore defined as:

In conventional units, it is measured in mSv/sec, Sv/hr, mrem/sec or rem/hr. Since the amount of radiation exposure depends directly (linearly) on the time people spend near the source of radiation, the absorbed dose is equal to the strength of the radiation field (dose rate) multiplied by the length of time spent in that field. The example above indicates a person could expect to receive a dose of 25 millirems by staying in a 50 millirems/hour field for thirty minutes.