Reheat, Inter-cooling and Regeneration  in Brayton Cycle
As was discussed, reheat and inter-cooling are complementary to heat regeneration. By themselves, they would not necessarily increase the thermal efficiency, however, when inter-cooling or reheat is used in conjunction with heat regeneration, a significant increase in thermal efficiency can be achieved, and the net work output is also increased. This requires a gas turbine with two stages of compression and two turbine stages.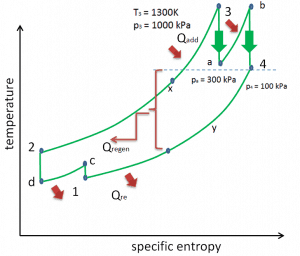 Ericsson Cycle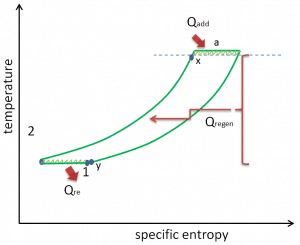 The second Ericsson cycle is similar to the Brayton cycle but uses external heat and incorporates the multiple uses of an inter-cooling and reheat. It is like a Brayton cycle with an infinite number of reheat and intercooler stages in the cycle. Compared to the Brayton cycle, which uses adiabatic compression and expansion, an ideal Ericsson cycle consists of isothermal compression and expansion processes combined with isobaric heat regeneration. Applying inter-cooling, heat regeneration, and sequential combustion significantly increases the thermal efficiency of a turbine. The thermal efficiency of the ideal Ericsson cycle equals the Carnot efficiency.
Thermal Efficiency Improvement – Brayton Cycle
There are several methods, how can be the thermal efficiency of the Brayton cycle improved. Assuming that the maximum temperature is limited by metallurgical consideration, these methods are: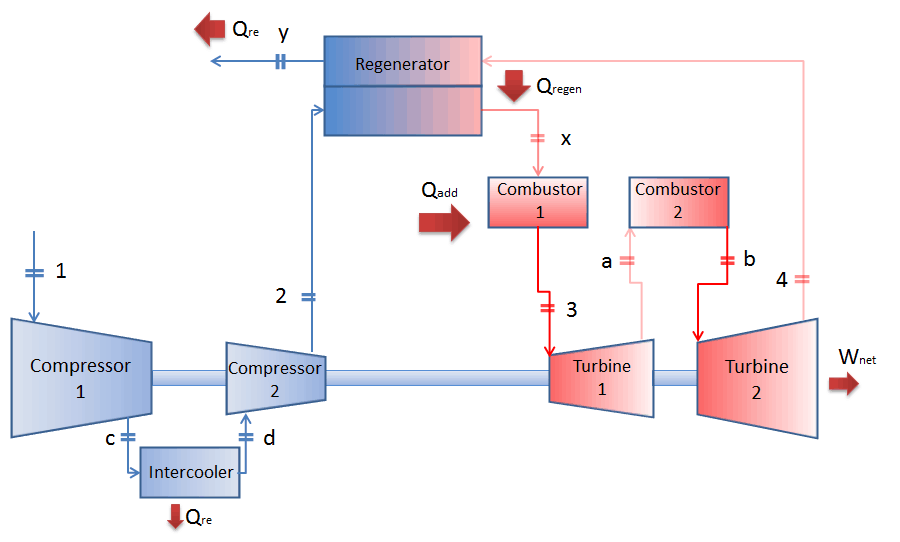 References:
Nuclear and Reactor Physics:
J. R. Lamarsh, Introduction to Nuclear Reactor Theory, 2nd ed., Addison-Wesley, Reading, MA (1983).
J. R. Lamarsh, A. J. Baratta, Introduction to Nuclear Engineering, 3d ed., Prentice-Hall, 2001, ISBN: 0-201-82498-1.
W. M. Stacey, Nuclear Reactor Physics, John Wiley & Sons, 2001, ISBN: 0- 471-39127-1.
Glasstone, Sesonske. Nuclear Reactor Engineering: Reactor Systems Engineering, Springer; 4th edition, 1994, ISBN: 978-0412985317
W.S.C. Williams. Nuclear and Particle Physics. Clarendon Press; 1 edition, 1991, ISBN: 978-0198520467
Kenneth S. Krane. Introductory Nuclear Physics, 3rd Edition, Wiley, 1987, ISBN: 978-0471805533
G.R.Keepin. Physics of Nuclear Kinetics. Addison-Wesley Pub. Co; 1st edition, 1965
Robert Reed Burn, Introduction to Nuclear Reactor Operation, 1988.
U.S. Department of Energy, Nuclear Physics and Reactor Theory. DOE Fundamentals Handbook, Volume 1 and 2. January 1993.
Advanced Reactor Physics:
K. O. Ott, W. A. Bezella, Introductory Nuclear Reactor Statics, American Nuclear Society, Revised edition (1989), 1989, ISBN: 0-894-48033-2.
K. O. Ott, R. J. Neuhold, Introductory Nuclear Reactor Dynamics, American Nuclear Society, 1985, ISBN: 0-894-48029-4.

D. L. Hetrick, Dynamics of Nuclear Reactors, American Nuclear Society, 1993, ISBN: 0-894-48453-2. 

E. E. Lewis, W. F. Miller, Computational Methods of Neutron Transport, American Nuclear Society, 1993, ISBN: 0-894-48452-4.
Other References: