Radioactive waste is any waste that contains radioactive material. Radioactive (or nuclear) waste is a byproduct of nuclear reactors, fuel processing plants, hospitals, various industrial applications, and research facilities. Radioactive waste is hazardous to most forms of life and the environment and is regulated by government agencies to protect human health and the environment.
Low-level Waste
Low-level waste, LLW, comes from reactor operations and medical, academic, industrial, and other commercial uses of radioactive materials. Low-level wastes include paper, rags, tools, clothing, filters, and other materials which contain small amounts of mostly short-lived radioactivity.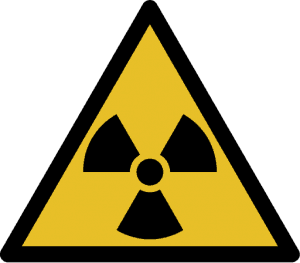 Low-level waste (LLW) has a radioactive content not exceeding 4 giga-becquerels per tonne (GBq/t) of the alpha activity or 12 GBq/t beta-gamma activity. LLW usually does not require shielding during handling and transport, and most LLW is suitable for shallow land burial. It is often compacted or incinerated before disposal to reduce its volume.