The impulse turbine is composed of moving blades alternating with fixed nozzles. In the impulse turbine, the steam is expanded in fixed nozzles and remains at constant pressure when passing over the blades. Curtis turbine, Rateau turbine, or Brown-Curtis turbine are impulse type turbines. The original steam turbine, the De Laval, was an impulse turbine having a single-blade wheel. The entire pressure drop of steam takes place in stationary nozzles only. Though the theoretical impulse blades have zero pressure drop in the moving blades, practically, for the flow to take place across the moving blades, there must be a small pressure drop across the moving blades also.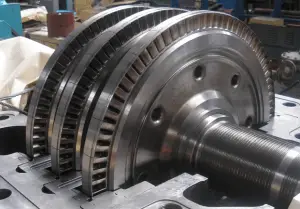 In impulse turbines, the steam expands through the nozzle, where most of the pressure potential energy is converted to kinetic energy. The high-velocity steam from fixed nozzles impacts the blades changes its direction, which in turn applies a force. The resulting impulse drives the blades forward, causing the rotor to turn. The main feature of these turbines is that the pressure drop per single stage can be quite large, allowing for large blades and a smaller number of stages. Except for low-power applications, turbine blades are arranged in multiple stages in series, called compounding, which greatly improves efficiency at low speeds.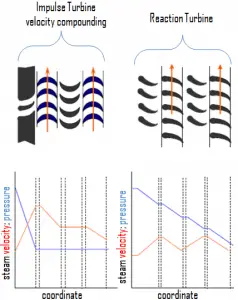 Modern steam turbines frequently employ both reaction and impulse in the same unit, typically varying the degree of reaction and impulse from the blade root to its periphery. The rotor blades are usually designed like an impulse blade at the rot and like a reaction blade at the tip.
Since the Curtis stages reduce the pressure and temperature of the fluid significantly to a moderate level with a high proportion of work per stage, a usual arrangement is to provide on the high-pressure side one or more Curtis stages, followed by Rateau or reaction staging. In general, when friction is taken into account reaction stages, the reaction stage is found to be the most efficient, followed by Rateau and Curtis in that order. Frictional losses are significant for Curtis stages since these are proportional to steam velocity squared. The reason that frictional losses are less significant in the reaction stage lies in the fact that the steam expands continuously, and therefore flow velocities are lower.