Key Characteristics of Prompt Neutrons
Prompt neutrons are emitted directly from fission, and they are emitted within a very short time of about 10-14 seconds.
Most of the neutrons produced in fission are prompt neutrons – about 99.9%.
For example, fission of 235U by thermal neutron yields 2.43 neutrons, of which 2.42 neutrons are prompt neutrons, and 0.01585 neutrons are the delayed neutrons.
The production of prompt neutrons slightly increases with incident neutron energy.
Almost all prompt fission neutrons have energies between 0.1 MeV and 10 MeV.
The mean neutron energy is about 2 MeV. The most probable neutron energy is about 0.7 MeV.
In reactor design, the prompt neutron lifetime (PNL) belongs to key neutron-physical characteristics of the reactor core.
Its value depends especially on the type of the moderator and the energy of the neutrons causing fission.
In an infinite reactor (without escape), prompt neutron lifetime is the sum of the slowing downtime and the diffusion time.
In LWRs, the PNL increases with the fuel burnup.
The typical prompt neutron lifetime in thermal reactors is on the order of 10-4 seconds.
The typical prompt neutron lifetime in fast reactors is on the order of 10-7 seconds.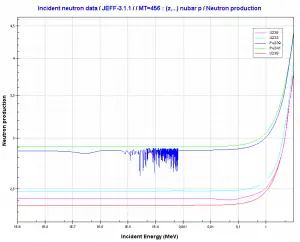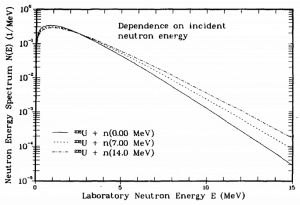 Slowing Down and Diffision Times for Thermal Neutrons in an Infinite Medium
Source: Robert Reed Burn, Introduction to Nuclear Reactor Operation, 1988.
Dependencies of asymptotic time period on the reactivity required for different
reactor types
with different prompt neutron lifetimes. Source: http://www.hindawi.com/journals/ijne/2014/373726/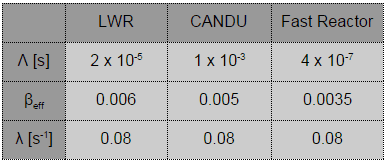 Interactive chart – Infinite Multiplying System Without Source and Delayed Neutrons
Press the "clear and run" button and try to stabilize the power at 90%.
Look at the reactivity insertion you need to insert to stabilize the system (of the order to a tenth of pcm).
Do you think that such a system is controlable?