E = mc2 Meaning
At the beginning of the 20th century, the notion of mass underwent a radical revision. The mass lost its absoluteness. One of the striking results of Einstein's theory of relativity is that mass and energy are equivalent and convertible one into the other. Equivalence of the mass and energy is described by Einstein's famous formula E = mc2. In other words, energy equals mass multiplied by the speed of light squared. Because the speed of light is a very large number, the formula implies that any small amount of matter contains a very large amount of energy. The mass of an object was seen as equivalent to energy, interconvertible with energy, and increasing significantly at exceedingly high speeds near that of light. The total energy of an object was understood to comprise its rest mass and its increase of mass caused by the increase in kinetic energy.
In the special theory of relativity, certain types of matter may be created or destroyed. Still, the mass and energy associated with such matter remain unchanged in quantity in all of these processes. It was found the rest mass of an atomic nucleus is measurably smaller than the sum of the rest masses of its constituent protons, neutrons, and electrons. Mass was no longer considered unchangeable in the closed system. The difference is a measure of the nuclear binding energy which holds the nucleus together. According to the Einstein relationship (E = mc2), this binding energy is proportional to this mass difference, and it is known as the mass defect.
E=mc2 represents the new conservation principle – the conservation of mass energy.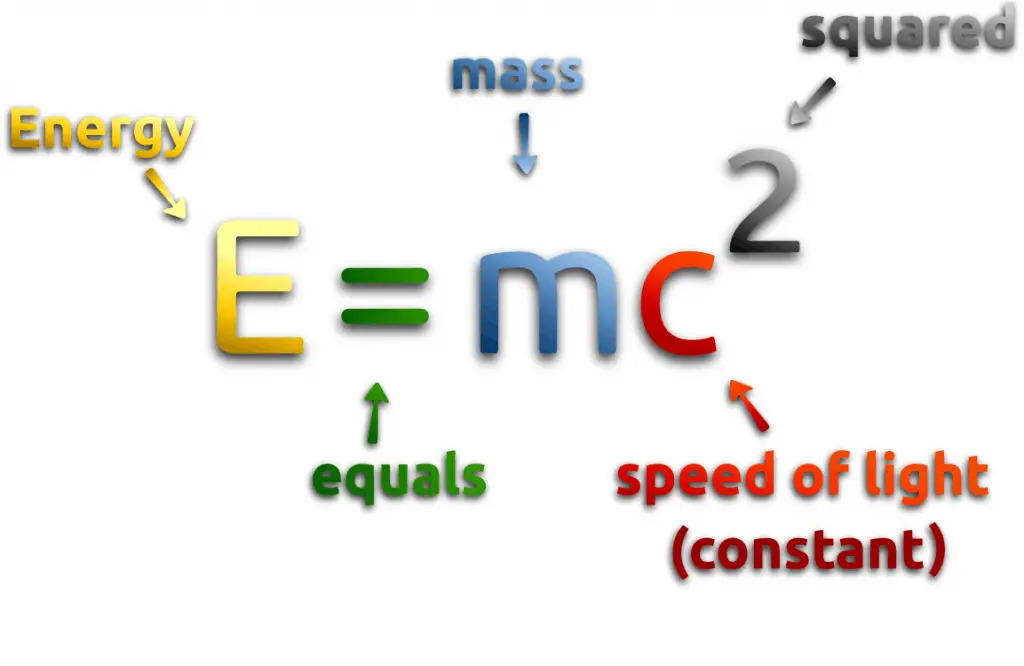 where m is the small amount of mass and c is the speed of light.
What does that mean? If nuclear energy is generated (splitting atoms, nuclear fusion), a small amount of mass (saved in the nuclear binding energy) transforms into pure energy (such as kinetic energy, thermal energy, or radiant energy).
Example:
The energy equivalent of one gram (1/1000 of a kilogram) of mass is equivalent to:
89.9 terajoules
25.0 million kilowatt-hours (≈ 25 GW·h)
21.5 billion kilocalories (≈ 21 Tcal)
85.2 billion BTUs
or to the energy released by combustion of the following:
21.5 kilotons of TNT-equivalent energy (≈ 21 kt)
568,000 US gallons of automotive gasoline
Any time energy is generated, the process can be evaluated from an E = mc2 perspective.