The
neutron flux
, φ, does not characterize the flow of neutrons. There may be no flow of neutrons, yet many interactions may occur (I = Σ.φ). The neutrons move in random directions and hence may not flow. Therefore the neutron flux φ is more closely related to densities. Neutrons will exhibit a net flow when there are spatial differences in their density. Hence we can have a flux of neutron flux!
This flux of neutron flux is called the neutron current density. We have to distinguish between the neutron flux and the neutron current density. Although both physical quantities have the same units, namely, neutrons.cm-2.s-1, their physical interpretations are different. In contrast to the neutron flux, the neutron current density is the number of neutrons crossing through some arbitrary cross-sectional unit area in a single direction per unit time (a surface is perpendicular to the direction of the beam). The neutron current density is a vector quantity.
The vector J is defined as the following integral:
Physical Interpretation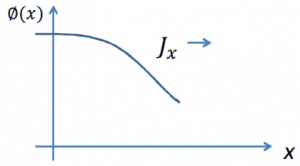 The physical interpretation is similar to the fluxes of gases. The neutrons exhibit a net flow in the direction of least density. This is a natural consequence of greater collision densities at positions of greater neutron densities.
Consider neutrons passing through the plane at x=0 from left to right due to collisions to the left of the plane. Since the concentration of neutrons and the flux is larger for negative values of x, there are more collisions per cubic centimeter on the left. Therefore more neutrons are scattered from left to right, then the other way around. Thus the neutrons naturally diffuse toward the right.