In general, the cross-section is an effective area that quantifies the likelihood of certain interactions between an incident object and a target object. The cross-section of a particle is the same as the cross-section of a hard object if the probabilities of hitting them with a ray are the same.
For a given event, the cross-section σ is given by
σ = μ/n
where
σ is the cross-section of this event [m2],
μ is the attenuation coefficient due to the occurrence of this event [m-1],
n is the density of the target particles [m-3].
In nuclear physics, the nuclear cross section of a nucleus is commonly used to characterize the probability that a nuclear reaction will occur. The cross-section is typically denoted σ and measured in units of area [m2]. The standard unit for measuring a nuclear cross section is the barn, which is equal to 10−28 m² or 10−24 cm². It can be seen the concept of a nuclear cross section can be quantified physically in terms of "characteristic target area" where a larger area means a larger probability of interaction.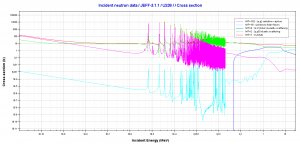 Source: JANIS (Java-based Nuclear Data Information Software); The JEFF-3.1.1 Nuclear Data Library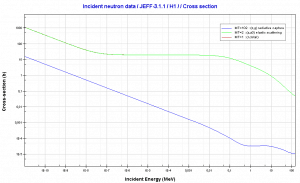 Hydrogen.
Neutron absorption
and
scattering
. Comparison of cross-sections.
Source: JANIS (Java-based Nuclear Data Information Software); The JEFF-3.1.1 Nuclear Data Library